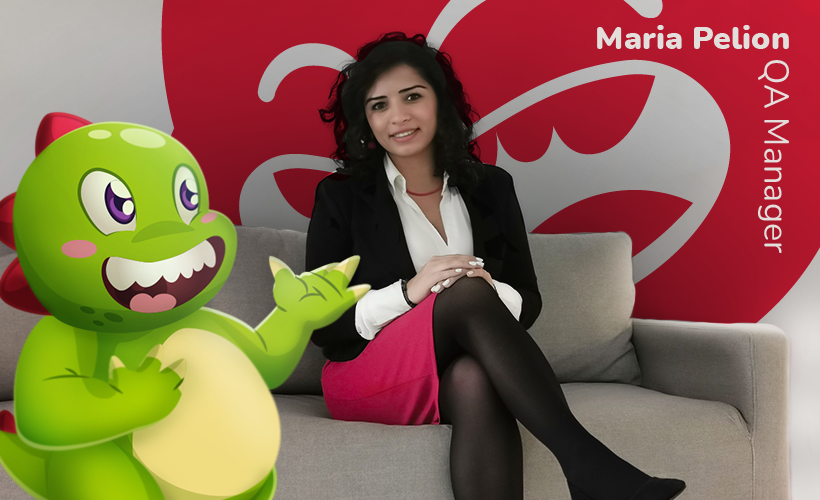 Meet the Zarzis - Q&A With Maria
Our QA Manager, Maria Pelion, hails from Romania. She graces our Malta office with her jovial attitude, and is responsible for the quality of the mobile games we produce for our players. We sat down with her to find out more about the world of quality assurance:
Tell us how you got started in the world of quality assurance.
I have always had an interest in technology. I experimented with different software programs from a young age. I then went on to teach what I learned to students. After teaching, I wanted to become more practical and move towards the industry as a software engineer. Quality Assurance was a big part of the SDLC lifecycle and therefore I chose to move into this role to ensure our customer had a great user experience.
What makes you passionate about working in quality assurance?
I'd say that finding the defects in a piece of software or an app makes me passionate about QA – being able to make something as bug-free as possible. With that being said, you can test something 24 hours a day, seven days a week and there would still be bugs you would find. The most important thing is that you identify everything that is critical.
How do you feel that your skills have grown or evolved since you began working for Zarzilla Games.
To be honest, I improved my skills a lot. I feel like I'm growing every day, and that's because I'm pushing myself to strive for perfection. I also thoroughly enjoy what I'm doing – I always look forward to the next workday. I definitely think that QA is my future!
Do you think that quality assurance in a mobile gaming company is the responsibility of the QA team, or do all the staff have an obligation towards it?
​
When it comes down to ensure the quality of the delivery of the game, our team is responsible for guaranteeing that the product meets the specified requirements. I do believe that it also ties down to all the stakeholders involved, which are an integral part of a game's development.
What makes Zarzilla Games a great place to work?
​
I like the environment and enjoy the company of the people that work here. My colleagues are from different backgrounds, ranging from locals, to those from international cultures. This is what makes Zarzilla a great place to work.
What do you consider to be your core strengths?
​
My fundamental strength is my attention to detail. I'm also very invested in whatever it is I happen to be doing, so I'm always motivated to complete what I set out to do and dedicated to reaching my goals. Patience is also something that I feel I have plenty of, and in a way, it's crucial to be patient when you work in QA, because you would miss important things that you're supposed to spot if you weren't.
What motivates you to be successful?
​
I just want to wake up in the morning and do better than I did the day before. I don't necessarily apply this thinking just to work – I think being successful in life is executing each day a little bit better than the last, regardless of what I happen to be doing.
How do mobile gaming customers play in to the quality assurance process? How do you incorporate the feedback you receive into making the product better?
​
Customer feedback is essential to improving our games and the quality of the overall product, so all our customer feedback is taking seriously and delved into on a case-by-case basis. This is when the team comes up with various solutions to enhance the product or feature. In Quality Assurance, it's important to meet our players' expectations of our products by continuously improving them.
Are there any companies with great quality assurance that you admire? If so, which are they?
​
I don't have any individuals or companies in mind to be honest – I just make sure that I'm as meticulous as I possibly can be in my current role!
Share, from your experience, how a mobile gaming company should go about quality assurance in 2021.
​
QA should begin at the very start of a project, even if the actual testing is performed at later stages. Each project brings new challenges, and each of these challenges can be turned into useful knowledge for the future. My mantra is to never stop learning, ask for feedback, sign up for training courses, attend conferences and arrange meetups with colleagues. All of these will help QA to grow with the company.