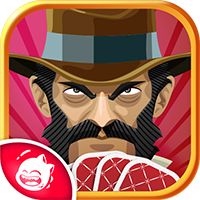 Deuces Wild is an extremely popular variation of video poker. The objective is to get the best possible poker hand, but with the twist that all deuces (2s) counts as "wild" cards. This means that when playing, if you have a pair of kings and a deuce, you will actually have 'three of a kind' Kings, with the deuce counting towards being a King. Hence 'Deuces Wild'.
As in all of Zarzillas games, we have made sure that the graphics are beautiful, the gaming is seamless and the payouts are HIGH!
Enjoy every moment that you play.