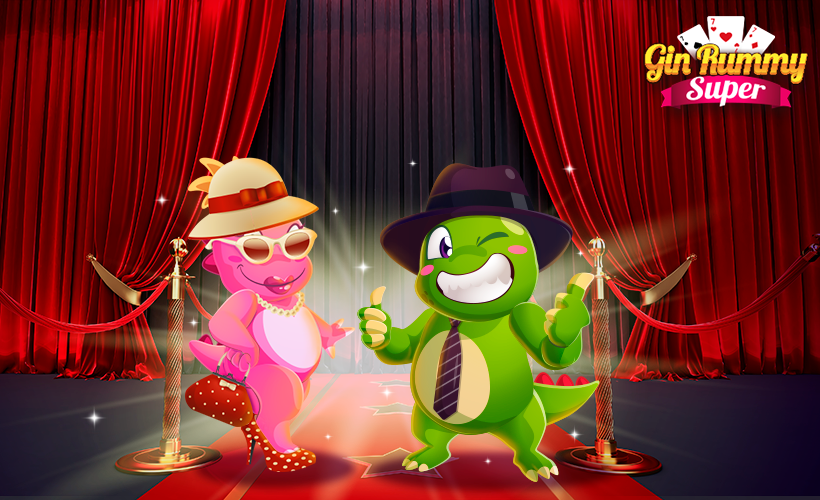 Gin Rummy History: The Bakers to Gin Rummy Super
The beloved card game, gin rummy, is 112 years old this year. It was invented in the United States by Elwood Thomas Baker and Charles Graham Baker, a father-and-son duo from Indiana. After inventing gin rummy, Charles Baker went on to become a screenwriter and director during the Golden Age of Hollywood, with well over 30 movie credits in his name. All in a lifetime's work for some!
According to the magician and writer, John Scarne, gin rummy evolved from 19th-century whiskey poker, and was created with the intention of being faster than standard rummy, yet let spontaneous than knock rummy.
Back to the Roots
To really understand where gin rummy came from, however, you have to look to the Orient. The rummy principle of drawing and discarding in order to meld later is common in Chinese card games from the 18th and 19th century. In fact, this principle is the essence of mah-jong, the Chinese card game that's popular all over the world.
It was a relative of mah-jong, called kun p'ai, that inspired a certain W.H. Wilkinson to persuade Messrs Goodall of the UK to publish a Western adaptation of it called Khanhoo. A similar game, called Kon Khin, or Conquian to give it the name Hispanics used to refer to it, emerged in the southwestern United States just prior to the turn of the 20th century after being brought over by Chinese immigrants. Due to their similarities, Conquian is thought to be the definitive forerunner of gin rummy.
Into the Roaring Twenties
During the 1920s, the nightlife in New York was in full flow. Every lounge, saloon, hotel parlor and speakeasy had a game of gin rummy on the go. It can be said that the 1920s marked the first heyday for gin rummy. After the Wall Street Crash of 1929, gin rummy went quiet for the better part of a decade until its re-emergence in the 1940s.
What's even more interesting is that gin rummy was actually called gin poker during the Great Depression. Confusingly, this actually had nothing whatsoever to do with the card game of poker, but is believed to have its roots in the socioeconomic conditions that existed during that time.
The effects of the Great Depression meant that people in general had less money to spend on going out and enjoying themselves, and that's why they had to rediscover the art of amusing themselves at home once again. Gin rummy is much simpler to learn that contract bridge, which was a card game at that was popular at the time, and more suited to a family environment than poker.
Gin Rummy Takes Hollywood
Gin rummy became very fashionable at the turn of the 1940s, with the who's-who of Hollywood and Broadway being known to enjoy a game or two. Screen siren Ingrid Bergman, for example, was known to play gin rummy on the set of the classic movie, Casablanca.
Two features in particular made the game popular with actors. The first was that gin rummy is very fast to play, but could be paused at a moment's notice, only for it to continue being played once the participants were free to do so again. The second was the introduction of an ingenious scoring device, whereby players could (in effect) play three games at the same time.
Gin rummy's association with Hollywood and Broadway made the game explode in popularity, especially in the United States, where it seemed like everyone was playing it. The game's popularity has endured to this day, however there was another great transformation it went through…
The Emergence of Card Games in the Personal Computer Age
The early 1980s heralded the start of the personal computer age, and it wasn't long before card games were digitized and made accessible to all virtually. Although personal computers are more associated with solitary card games such as Solitaire, other card games such as gin rummy weren't long to emerge in a digitized format.
Into the 2000s: The App Age
Although Nokia is credited with creating the first-ever app back in 1997 when it installed the game Snake on one of its mobile phone models, apps as we know them today emerged in 2007, when Apple launched its now ubiquitous App Store. As such, there wasn't really a "first" app in the modern era, because the App Store was launched with 500 apps at once. Mobile card games have been emerging ever since that time.
2021: Gin Rummy Super is Here!
We're now well into the third decade of the 21st century, and here at Zarzilla Games, we've produced our own amazing take on the beloved gin rummy card game – Gin Rummy Super! Not only is it ridiculously colorful and fun, but it also allows two players to compete and match exclusive suits and sets of three to develop the best hands. Compete against your friend, or rank yourself against the rest of the world!
Along your Gin Rummy Super journey, you'll earn rewards, complete challenging levels and climb the global leaderboard! Why don't you try Gin Rummy Super today? It's absolutely free and will provide you with endless hours of fun. Good luck!